Now that the construction of your new home is complete, you can move in any day. However, before you move in, you will need to consider the immaculateness of the place. If you are in Melbourne, you can expect the builders to clear the dust and debris left in the place. But even if they do remove them, much of the waste will still be lying there. And to remove them, you will need to hire residential after construction cleaners.
If you notice that your building indeed requires a thorough cleaning, you should not procrastinate in hiring professional cleaners. There are many reasons for this which we will be specifically discussing today.
The Waste Can Be Harmful to Health
The waste lying on your property contains leftover paint, dirt, debris, concrete, bricks, etc. If you breathe these particles, you can naturally fall ill. Moreover, if you are allergic to dust or specific chemicals, these particles can exacerbate your situation. So, you should not let them lie around on your property. Instead, you should call cleaners carrying out residential construction cleaning in Melbourne. They will remove them from your property meticulously.
Odour Can Generate from the Waste
Waste generated from residential construction can give off a foul odour. This smell can be nauseating and can disrupt your day to day activities. So, in this scenario, it is meaningless to keep the waste lying on your property. Rather, the best solution is to appoint professional cleaners who can proficiently remove them to freshen up the surrounding areas.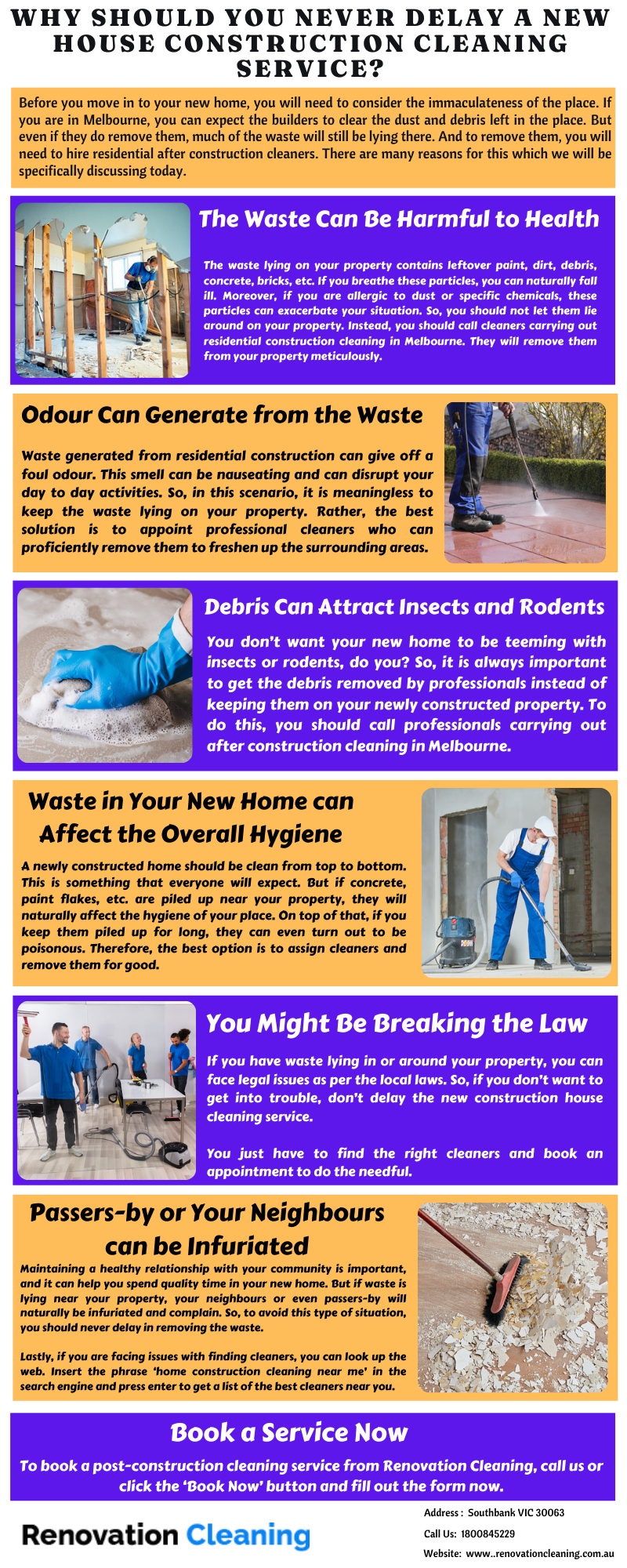 Debris Can Attract Insects and Rodents
You don't want your new home to be teeming with insects or rodents, do you? So, it is always important to get the debris removed by professionals instead of keeping them on your newly constructed property. To do this, you should call professionals carrying out after construction cleaning in Melbourne.
Waste in Your New Home can Affect the Overall Hygiene
A newly constructed home should be clean from top to bottom. This is something that everyone will expect. But if concrete, paint flakes, etc. are piled up near your property, they will naturally affect the hygiene of your place. On top of that, if you keep them piled up for long, they can even turn out to be poisonous. Therefore, the best option is to assign cleaners and remove them for good.
You Might Be Breaking the Law
If you have waste lying in or around your property, you can face legal issues as per the local laws. So, if you don't want to get into trouble, don't delay the new construction house cleaning service.
You just have to find the right cleaners and book an appointment to do the needful.
Passers-by or Your Neighbours can be Infuriated
Maintaining a healthy relationship with your community is important, and it can help you spend quality time in your new home. But if waste is lying near your property, your neighbours or even passers-by will naturally be infuriated and complain. So, to avoid this type of situation, you should never delay in removing the waste.
Lastly, if you are facing issues with finding cleaners, you can look up the web. Insert the phrase 'home construction cleaning near me' in the search engine and press enter to get a list of the best cleaners near you.
Book a Service Now
To book a post-construction cleaning service from Renovation Cleaning, call us or click the 'Book Now' button and fill out the form now.
You may also listen the podcast of the above blog: